Senior Writer, Policy, The Verge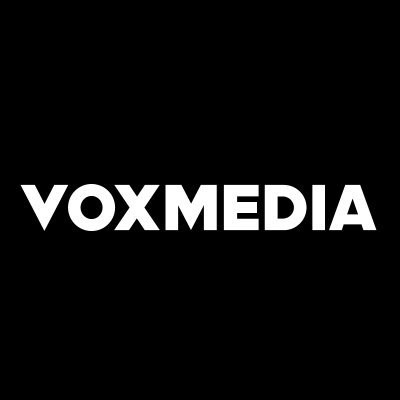 Vox Media
Marketing & Communications
United States
Posted on Saturday, November 18, 2023
WHO WE ARE
The Verge is an ambitious multimedia effort founded in 2011 to examine how technology will change life in the future for a massive mainstream audience.
The Verge is part of Vox Media, the leading modern media company. We guide our audience from discovery to obsession. We inspire essential conversations about what's now, what's next, and what's possible.
As a community of journalists and storytellers, business professionals, creators and technologists, we believe it is a moral and business imperative to amplify voices: to cultivate diversity, equity, and inclusion throughout our organization and media. This applies to our candidates, our teams, our storytelling, our creative work, and our platforms, products, and partnerships.
The Verge's policy team is dedicated to illuminating how politics, law, and regulation affect the technologies that shape readers' lives — and how technology is shaping all those fields as well. As a US presidential election approaches, the Supreme Court prepares to take on online speech challenges, and EU regulation changes the basic operating principles of services like iMessage, we're delving into the goals of politicians, regulators, and activists; weighing the intended and unintended consequences of their efforts; and looking for the nuance behind the biggest issues of the day.
WHAT YOU'LL DO
The Verge is looking for a senior reporter to cover the policy and politics of technology, including the 2024 US elections and beyond. You'll spend your days finding big stories and breaking down enormously complex topics around technology lawmaking and more.
Senior reporters at The Verge are responsible for working with editors to identify and maintain a beat, then proactively generating stories on that beat. As tech policy reporter, your duties will be a mix of reporting on the news of the day and digging into longer-lead investigations that will drive news cycles of their own.
Your responsibilities will include:
Developing your beat with coverage from news to larger reports and analysis.
Working across our teams to find and explain stories around tech policy.
Develop and nourish sources in the communities being affected by tech policy and with the companies and activists working for better tech policy.
Proactively pitch news and analysis, and help vet stories.
Help us maintain our collaborative and ambitious team culture.
WHO YOU ARE
You care deeply about politics and policy because of what they mean for people. You have a vision for strong, focused election coverage that doesn't just report what candidates are telling voters, but presses them for the answers that matter — on topics ranging from online speech to the future of the FCC to the right to repair. You've published scoops and built a network of contacts and sources in the tech policy area.
Qualifications:
Extensive experience reporting in the tech policy space.
Experience covering a US election.
Strong knowledge of tech policy and lawmaking.
A roster of good contacts in politics and major tech companies.
Strong writing skills, including the ability to identify compelling angles and develop them effectively.
If you think you have what it takes, but don't meet every single point in our job posting, please apply with a cover letter to let us know how you believe you can bring your unique skills to the Vox Media team or get in touch! We've hired chefs who became editors, DJs who became UX designers, and sommeliers who became writers.
WHERE YOU'LL WORK
This job is remote or hybrid. This job is able to be based in our New York office.
WHY VOX MEDIA?
WHAT WE OFFER
This is a permanent, full-time position. This job is benefits-eligible. We pride ourselves in providing comprehensive benefits to support all of our employees wherever they are in life. You can find more information about our benefits here.
This role is a part of the Vox Media Union, represented by the Writers Guild of America, East
OUR DEI+ COMMITMENT
Vox Media is committed to building an inclusive environment where everyone can show up as their authentic selves and create their best work. We recognize that great stories, platforms, products and services come from people with all manner of backgrounds and experiences. We recognize that our commitments require ongoing work and sustained attention, as well as adaptation to new insights and best practices. We keep our diversity data public for the sake of accountability, transparency and communication. Learn more about our values here, and our approach to corporate citizenship here.
Vox Media is an Equal Opportunity Employer and qualified applicants will receive consideration without regard to race, color, gender, sexual orientation, gender identity or expression, religion, disability, national origin, protected veteran status, age, or any other status protected by applicable national, federal, state, or local law. Vox Media will also consider all qualified applicants with criminal histories in accordance with applicable Fair Chance laws. We are also committed to providing reasonable accommodations as part of the application process to candidates with disabilities. If you require a reasonable accommodation as part of the application process, please contact our People & Culture team (recruitment@voxmedia.com).
WHAT COMES NEXT
Please include examples of your work in your application/cover letter.
Our recruiting team will go through applications in a timely manner. Please note that our recruiting team will only contact you from @voxmedia.com email addresses, never via text message. Read more about how our recruiting team operates, and how to protect yourself from recruitment fraud, here.
PAY TRANSPARENCY
The salary range listed below represents the minimum and maximum base pay for this position at the time of this posting. Final salary offered to the candidate selected for the position will be based on factors including but not limited to the candidate's skills and experience.
Pay Range